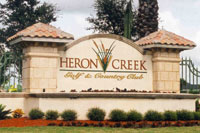 literally, from the Heron Creek Golf & Country Club!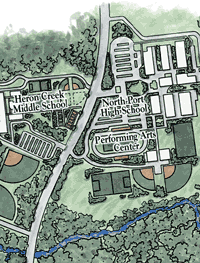 is a new state-of-the-art school which opened in August, 2001. NPHS is located on Price Blvd., right next door to Heron Creek. Ten years in the planning, NPHS is equipped with the latest in technology and uses innovative teaching methods. NPHS students are offered high-tech laboratories with pop-up areas with computers and wireless terminals for on-line research and teleconferenced interaction. The learning academies approach to specialized instruction involves the grouping of students in village-like settings, where they will experience hands-on learning. Core specializations are supplemented by eight vocational areas of study. Student safety received much attention in the design of the school, by allowing visibility of the campus from the administration offices and by limiting access points.

opened for its first school year in August, 2003. This new school is located on Price Blvd., just across the street from North Port High School.


there are two A+ rated elementary (K-5) schools very close by.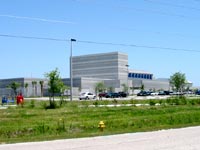 is the home of the North Port Symphony and other performances. A joint effort of Sarasota County Schools and the City of North Port, the Center is located on the campus of NPHS.